One Goal: End Cancer!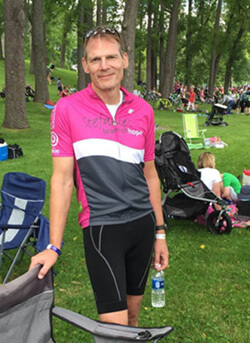 The official fundraising season for Pelotonia has come to a close for 2019. I'm proud to announce Complete Eye Care West has supported this important community effort for it's 8th consecutive year. Together, with help from patients, staff and friends, our practice has again contributed over $4,000 directly to cancer research at the James Cancer Research Center. This brings our 8 year total to over $35,000!
Since its inception, Pelotonia has raised over $200 Million. Lives have been saved and prolonged in remarkable ways and new, game-changing discoveries are leading to cures that were unthinkable just a short time ago. We are so thankful for this opportunity to join the fight and for your generous support. If you'd like to get involved as a rider, "virtual rider" or volunteer, Dr. Hutchison can help you find a way to serve! Just let us know.
Thank You!!