What Does An Ophthalmologist Do?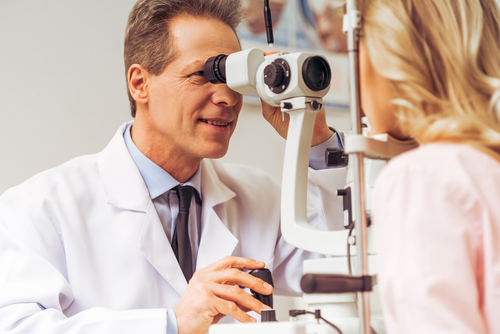 Are you trying to figure out what type of eye doctor you need to see? It can be confusing to know what kind of eye doctor to see. How can you tell the difference between an ophthalmologist, optometrist, and optician?
Finding the right eye care professional is a key part of good eye health. This is a big decision because you are trusting them with the health of your vision. Keep reading to learn what an ophthalmologist does and why it's important for your eye health!
What Is An Ophthalmologist?
An ophthalmologist is an eye doctor that specializes in vision and eye health. Ophthalmologists are trained to conduct eye exams, treat and diagnose conditions, prescribe medications, and perform eye surgeries.
They can also write prescriptions for glasses, make sure that glasses fit correctly and prescribe contact lenses. They can diagnose and treat eye conditions related to other health problems like diabetes or glaucoma.
Some ophthalmologists are trained in plastic surgery and can treat conditions like droopy eyelids or smoothing out wrinkles. Many ophthalmologists take part in scientific research to help find cures for vision conditions.
How Do Ophthalmologists Differ From Other Eye Doctors?
The biggest difference between ophthalmologists, optometrists, and opticians is their level of training. Ophthalmologists must complete their undergraduate degree, followed by four years of medical school.
They then need a one-year internship and at least three years in a hospital-based residency for ophthalmology. Once they have completed their schooling, they can practice medicine and surgery. Optometrists need to complete their undergraduate degree, followed by four years of optometry school.
Optometrists can examine the eyes for vision and health problems and can prescribe glasses and contacts. Opticians are not eye doctors. Instead, they can use prescriptions written by an ophthalmologist or optometrist to fit and sell glasses or other eyewear.
Can My Ophthalmologist Also Be A Specialist?
Some eye doctors go a step beyond being able to treat eye problems and conditions. In this case, they can specialize in a specific area of surgical or medical eye care.
They are usually called a specialist. They spend one or two years participating in a deeper learning experience or fellowship. Doctors can specialize in glaucoma, retina, pediatrics, cornea, neurology, plastic surgery, etc.
Doing a fellowship in one of these areas makes an ophthalmologist better trained to treat specific conditions in the eye.
Most common eye conditions and some chronic ones can be treated by an optometrist. But specific eye conditions require treatment by an ophthalmologist.
This is especially true if you have a condition and need to have surgery to treat it. Some conditions are treated by a team made up of an optometrist and an ophthalmologist.
We understand that figuring out what type of eye doctor you need to see can be daunting. If you are still confused about what type of eye doctor you should see, our team is here to help!
Schedule an appointment with an ophthalmologist at Complete EyeCare West in Columbus, OH. There's never a bad time to start making your eye health a priority!